It is believed that In Vitro Fertilization (IVF) is afforded only by the rich and the famous, we would like to add that cost of IVF in Mumbai is very economical especially at IRIS, IVF Centre in Saraogi Hospital. The average IVF cost in Mumbai ranges from ₹1,50,000 – ₹2,50,000 whereas in Saraogi Hospital it will cost you approximately from ₹90,000  to ₹1,00,000.
The IVF treatment cost in Mumbai is highly varied; you will find high-end clinics that charge more than ₹3,00,000 for one IVF cycle and the medication charges are not inclusive in several clinics and on the other end we have IRIS, one among the best IVF centre in Mumbai. We provide very reasonable IVF cost where you are assured of quality treatment for just about ₹75,000.
What does the average IVF Procedure cost in Mumbai & cost at IRIS IVF Centre at Saraogi Hospital?
| Procedure | Cost in Mumbai | Cost in Saraogi Hospital |
| --- | --- | --- |
| | | |
| | Rs. 1,50,000 – Rs. 2,50,000 | Rs. 90,000 – Rs. 1,00,000 |
| | Rs. 1, 35,000- Rs. 1,50,000 | Rs. 1,10,000 – Rs. 1,30,000 |
| | | |
| | | |
| | | |
| | Rs. 2, 10,000- Rs. 2, 60,000 | Rs. 1, 45,000 – Rs. 1, 65,000 |
Here, we see to it that nobody is deprived of becoming a parent just because they could not afford the cost of the treatment.
We at IRIS IVF Centre are committed to providing the best possible fertility treatment under renowned doctors. We are a team of experienced IVF specialist in Mumbai having served patients for 35 plus years in this field. and have treated more than 15000 patients. In 1990, Dr. R. M. Saraogi started IRIS IVF Centre at Saraogi Hospital with the aim to offer affordable cost OF IVF in Mumbai, so that all classes of people can avail this service.
What are the factors affecting the IVF cost in Mumbai?
The number of treatments needed and the age of the woman
The clinic's success rate
The experience and expertise of the fertility specialist
The need for additional treatments like IMSI, laser-assisted hatching, etc. as per your issue can increase the cost
The cost of freezing the embryos for FET or Freeze-All method.
Taking into consideration the cost of added treatments and procedures, such as PGT, TESA, PESA, etc.
How Much Does IVF Cost In Mumbai 2022?
As mentioned earlier, IVF treatment cost in Mumbai has a wide range due to which many prospective patients are under the impression that it is a costly procedure with very low success rate.
However, at IRIS IVF, we provide IVF treatment for approximately ₹90,000.00 -₹1,00000.00 which is inclusive of medicines, treatment, media and disposables. At this point, we would like to add that the medication alone cost around ₹40,000.00 – ₹60,000.00. Also, we use the best medications and medical equipment available in the market as we believe in serving the people with honesty and compassion.
so provide a package of all inclusive two IVF cycles for ₹1,50,000.00 – ₹1,70,000.00. Actually, this package depends on the availability of extra embryos for freezing and the second cycle has to be done within 5 months of freezing the embryos.
Not only do we have a very competitive IVF cost but we also provide budget IVF treatment in Mumbai. We have initiated this concept of IVF to provide treatment to a financially weaker section of the society. Here a patient can avail this all-inclusive service for ₹75,000.00 – ₹85,000.00. The only difference in this type of treatment is the amount of injected medication is decreased so the women will produce half the number of eggs. But be rest assured that they will be good quality eggs as we do not compromise on our services and integrity.
What Is IUI Treatment Cost In Mumbai 2022?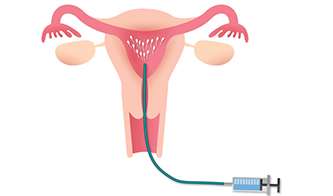 Majority of the couples who are faced with infertility issues must have tried IUI treatment at least a couple of times as IUI cost in Mumbai is very economical and it is a less invasive procedure which is done in a short span of time and does not require anesthesia. IUI treatment cost in Mumbai at IRIS IVF Centre falls in the range of ₹6,000.00 – ₹9,000.00. If you undergoing IUI with donor sperm then the IUI cost in Mumbai at this centre will be around ₹8,000.00 – ₹10,000.00.
What Is The Total Cost Of ICSI Treatment In Mumbai?
As you may be aware, ICSI (Intracytoplasmic Sperm Injection) is a more sophisticated method of treatment where a single sperm is injected into the egg. The success rate of conceiving is higher for ICSI than the traditional IVF. As it is a more complex procedure the charges for it is more than the normal IVF cost in Mumbai. At IRIS IVF, the cost of ICSI is approximately ₹1,10,000.00 – ₹1,30,000.00 inclusive of treatment, drugs, disposables and media.
In case you are using the donor sperm for ICSI then the cost of the treatment will naturally increase. We provide ICSI with donor sperm for ₹1,40,000.00 – ₹1,70,000.00.
ICSI using Freeze-all
Recently, with the scientific and technological advancements, a new way of performing ICSI has been invented which gives very high success rate. It is called ICSI using Freeze-all method. It has been proved that women undergoing ICSI using frozen embryo transfer have better chances to conceive than using fresh embryo transfer.
In the Freeze-all method, normal ICSI procedure is carried out but the doctors will not transfer the embryos to the woman's uterus but freeze them all. After around two months when the uterus lining is developed to the optimal level with the help of drugs, the frozen embryos are thawed and transferred to the uterus. The success rate of this procedure is about 70%. The cost of ICSI using Freeze-all falls in the range of ₹1,35,000.00– ₹1,50,000.00.
What Is The Cost Of Embryo Freezing In Mumbai?
During Frozen Embryo Transfer (FET), the frozen embryos from the prior IVF cycle are transferred to the uterus after thawing them. So basically, the hormone stimulation medications and egg collection steps are skipped. The price for this cycle is way to less than normal IVF treatment cost in Mumbai. We provide FET for about ₹35,000.00 – ₹40,000.00 which is a very cost-effective price as compared to IVF cost in Mumbai at other clinics.